Car Battery Service in Norman, OK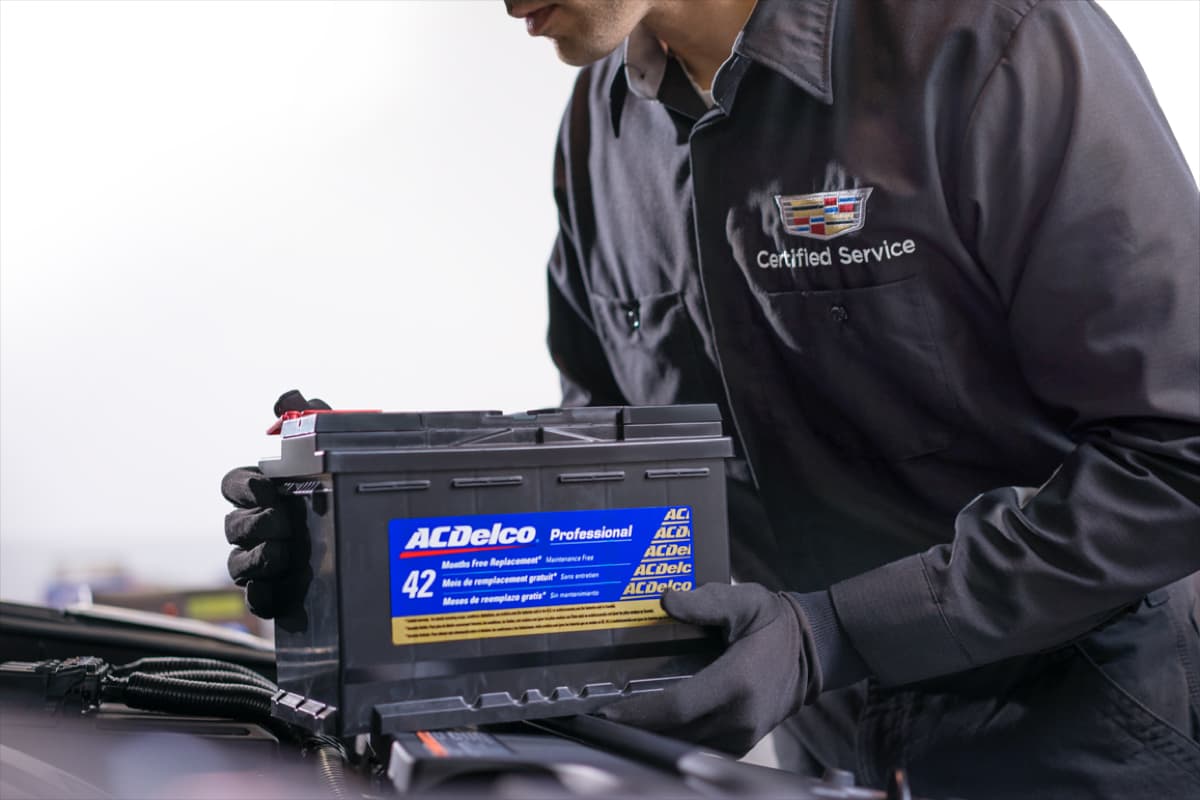 Car Battery Service for Your Vehicle in Norman
Waiting too long to get your car battery serviced can result in it dying completely, leaving your car needing towing. Stay one step ahead, and inspect your battery at Bob Moore Cadillac of Norman. Car batteries' life can be affected over time by the extreme summer heat and frigid cold of winter. Help identify car battery problems beforehand, and be prepared for your morning commute or long road trips.
Vehicle Not Starting Identifiers
Wondering why your car won't start? A key reason is that your battery may be dead or need a charge. A typical reason a battery dies is age; we recommend replacement every 3 to 5 years. If the battery was improperly installed or moved with rough roads, vibrations could cause physical damage and a shortened life. The battery is crucial for starting your car and supplying power to the electrical components. Due to this, if headlights are left on or interior gadgets are left running, your battery may be low on juice. Jumpstarting your car and driving for roughly 1-2 hours should have it running again properly. For either case, regular battery inspection is recommended to stay ahead of your battery dying.
How to Maintain Your Car Battery's Life
Keeping your car's battery in good shape will help prevent possible breakdowns. Recommendations we have include:
Regular Inspection:

A certified technician can check for any leaks or damage.

Manage Corrosion Buildup:

Since the battery builds corrosion on its terminals, cleaning this can help maintain its life. Use a mixture of water and baking soda with a wire brush to clean them. Terminal grease can prevent more corrosion in the future.

Make Sure Battery is Fixed:

Vibrations can cause the battery to have structural damage and shorten its lifetime. Make sure it is tightened in its place correctly.

Regular Car Rides:

Driving your car charges the battery, which can help maintain its life. Long periods between trips will gradually wear down your battery.
Car Battery Warranties
Car battery warranties are available at Bob Moore Cadillac in Norman. Our warranties change based on current specials, with offerings such as a 42-month free replacement on ACDelco batteries. Talk with our team at Bob Moore Cadillac Norman for more details.
Car Battery Service at Bob Moore Cadillac Norman
We aim to have your car battery serviced right the first time and eliminate your vehicle trouble and headaches. With our team of technicians, stop in to have us help you find the right battery for your car and get it serviced as soon as possible. Do you prefer to schedule service for your vehicle online? Fill out the form on the "schedule service" link, and Bob Moore Cadillac Norman will contact you.